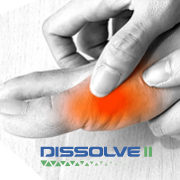 If you have hard-to-treat, or refractory, gout consider joining the DISSOLVE II clinical research study.
Current treatments for refractory gout often cause an unwanted immune response.

This can reduce their effectiveness and may lead to serious side effects. 

SEL-212 is the first investigational drug designed to treat refractory gout AND prevent an immune response.
About the Clinical Research Study:
Study participants who test positive for COVID-19 will receive at NO COST:
Outpatient study-related care that includes follow-up COVID-19 testing.

Compensation for study-related time and reimbursement for travel.

Opportunity to support COVID-19 research.

The DISSOLVE II Study will assess whether a once-monthly infusion of SEL-212 could help manage the symptoms of gout more effectively over a longer period.
PARTICIPATION REQUIREMENTS*
 If you are interested in taking part in the DISSOLVE II Study, we are searching for people who:
Are 19–80 years of age (women must not be able to have children)

Have ongoing symptoms of gout despite treatment

Have experienced 3 or more gout flare-ups within the last 18 months, OR have gouty arthritis OR gout tophi

*There are other criteria that you will need to meet to qualify, which the study team will discuss with you.
Interested in Placing a research study with Us ?
Please fill Out the form below