Family Care Research Welcomes Leanna Moser, FNP-C to the Clinical Research Team in Boise ID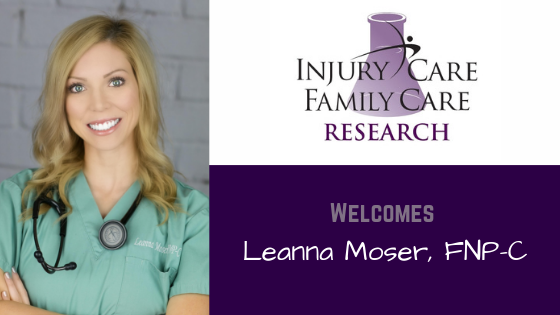 Our Newest Clinical Research Clinic in Boise ID is growing!
Meet Leanna Moser, FNP-C. Family Care Research is pleased to welcome her as the newest member of our team, as well as a (relatively) new member of the Boise, Idaho community.
Leanna and moved here from Southern California about five years ago to be closer to family, and because she felt the community was perfect for raising her four children. Her family loves time spent with friends and family, getting involved in their community and church, and staying active outdoors. Leanna's personal hobbies include horseback riding, reading, travel, hiking, and (of course) research.
A Heart for Holistic Healthcare
Leanna is a board-certified Family Nurse Practitioner with 15 years experience in:
Emergency/trauma,
General medicine,
Pharmaceutical studies,
Dermatological care/aesthetics
Her professional interests include pediatrics, thyroid and hormone balancing, diabetes, dermatology, anxiety, depression, and cardiovascular health. She has avidly pursued these passions by founding her own family medicine clinic, East to West Family Medicine, as well as Sculpt Aesthetics (a  med-spa where Leanna and her staff help clients feel and rejuvenated from the inside out). In both of her businesses, Leanna Moser, FNP-C has made it her mission to combine the most cutting-edge modern medicine with the most evidence-based natural medicine techniques to achieve the very best outcomes for her patients.
A Proven Provider That Clinical Research Patients in Boise ID Will Feel Comfortable With
Leanna Moser, FNP-C has worked in the clinical research Boise ID field for four years prior to joining Family Care Research. In this time, she has worked on studies that focused on:
Diabetes
COPD
Asthma
Hypercholesterolemia
Gout
Leanna firmly believes in the value of holistic healthcare, and that compassionate, individualized care is best provided via an open patient-provider relationship.
These traits will be perfect for her role with us, contributing to the most advanced clinical research studies in Boise ID.
At our Family Care Research Clinic in Boise ID, she will be using her expertise as a practitioner and researcher to help us enroll our clinical research studies. Leanna will also be using her Treasure Valley clinical research experience in serving as a Sub-Investigator on our protocols.
To learn more about Leanna or the rest of our team, please visit: https://injurycareresearch.com/about/
To read all about our recently opened Family Care Research Clinic in Boise ID, please visit https://injurycareresearch.com/introducing-family-care-research/.